International collaboration is an inherent component of research and education networks such as Belnet. For instance, since 2012 we have been exchanging knowledge and experience with our colleagues at CEDESURK and their partner organisations in the Democratic Republic of Congo. Together with Muliri MIRINDI Dieudonné and Patrick LUFUNDISU, we look back at the main challenges and achievements.
Muliri MIRINDI Dieudonné works as an IT Consultant at CEDESURK, the Congolese documentation centre for higher and university-level education and research. He was the founder of the Congolese NREN (eb@le) project, with the objective to facilitate the connectivity and collaboration between the CEDESURK members. CEDESURK has more than 50 affiliated research centres and universities at the moment. One of these is the National Pedagogical University (UPN) in Kinshasa, where Patrick LUFUNDISU is working as Network & System Administrator. As a partner organisation, UPN regularly collaborates with CEDESURK on various projects.
The first contacts between Belnet and CEDESURK took place when Belnet learned about the UniversiTIC programme through the Flemish Interuniversity Council (VLIR) and the Academy for Research and Higher Education (ARES). After several exchanges, the collaboration was formalised in 2012.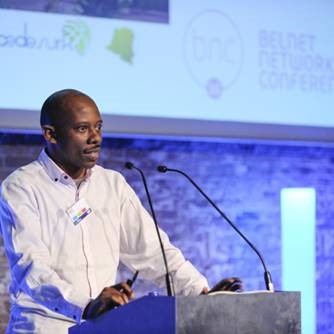 Muliri MIRINDI Dieudonné, computer consultant at CEDESURK
"From the start, we exchanged expertise with Belnet's teams," says Muliri MIRINDI Dieudonné. "For instance, Pieter Hanssens (Coordinator of the Belnet Networks team) came to Kinshasa at one point to assess, with us, how we could improve our local network infrastructure and set up an NREN for the Congolese research and education community."
What challenges did you face?
Muliri MIRINDI Dieudonné: "First of all, we had to look for the right people. Once they were hired, it was also crucial to be able to retain them. After all, once they had been trained, they had the necessary skills to work for private companies in the telecom sector. So we had to find a way to motivate people, aside from the financial aspect, and emphasise the important social role of an NREN. Fortunately, we can also count on the help of students and volunteers within the R&E community."
"In addition, we had to deal with administrative and political hurdles. It took some time for clarity and direction to emerge at the level of the various political institutions. Of course, there were also technical challenges: for example, electricity supplies were not sufficiently stable to reliably host our servers 24/7. In terms of connectivity, it was mainly the exuberant prices that bothered us. Today, fortunately, the market has evolved and prices are decreasing."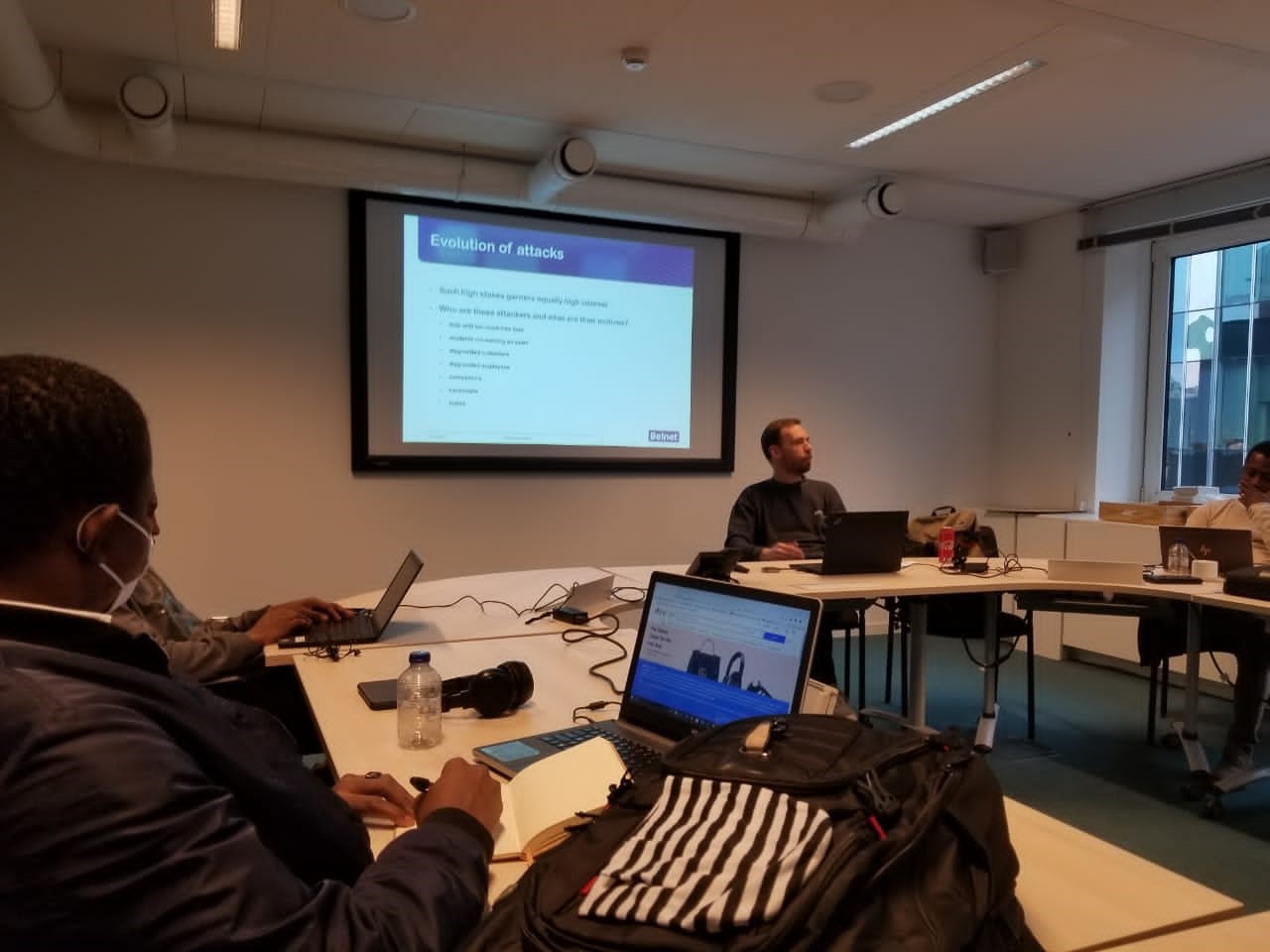 Information sharing between Belnet, CEDESURK and other ARES partner universities
How did Belnet support you?
Muliri MIRINDI Dieudonné: "Thanks to the knowledge exchange with Belnet, we didn't have to start from scratch. To develop a design, we were able to draw on best practices. In addition, Belnet helped us host some of our infrastructure. Previously, our servers were at a private company (OVH), which was not ideal in terms of cost or availability. Belnet offered to host two servers for us, for free, in their data centre in Belgium. All we had to take care of was the purchase and installation."
Patrick LUFUNDISU: "All NREN member organisations benefit from Belnet's technical support. In the past, we often struggled with electricity outages and problems with Internet access. The fact that we can host our DNS servers, web servers and e-learning applications from a server that can be accessed from anywhere at any time is a great advantage for the university and its students. The knowledge exchange with Belnet is also an important asset for our organisation."
What do you use the Belnet infrastructure for?
Muliri MIRINDI Dieudonné: "First of all, we use the servers to host DNS, web services and for ITSM and shared web hosting. It is also an ideal test environment for us: as the connectivity in Belgium is higher-performance, it is often easy to carry out tests from Belgium, even if we then want to host the services locally. The Belnet servers also allow us to move quickly: for example, at the beginning of the corona pandemic, we were able to offer a video conferencing platform (Jitsi) to our partner organisations at very short notice, in anticipation of a locally hosted solution."
"Currently, we are involved in a large-scale cooperation project with the Congolese Ministry of Higher Education, Campus Numérique and a number of local partners. The intention is to create a national digital library that will include both local and international content. For visibility to the outside world, in addition to our local servers, we can also rely on the infrastructure Belnet makes available to us." 
Patrick LUFUNDISU: "At the beginning of this year, Belnet migrated CEDESURK"s servers to its virtual infrastructure. When we still had physical servers, we didn't always use resources efficiently. With the new virtual environment, we are trying to move towards sharing resources."
Muliri MIRINDI Dieudonné adds: "We want to offer our partner organisations in-house solutions in the future. On one of Belnet's servers, we have set up a platform that will eventually allow them to manage their services themselves. This allows us to optimise our resources. Hosting by Belnet is important for the continuity of our services: if the platforms we host locally are unavailable, Belnet still allows us to continue to access the platform from the outside."
How do you see the future collaboration between CEDESURK and Belnet?
Patrick LUFUNDISU: "Everything related to cyber security is becoming increasingly important. We need to properly identify and evaluate the risks. This will require the support of our institutions' decision-makers, as well as the awareness of our end users. We can only succeed in this if we speak their language and make communication about security understandable and accessible."
Muliri MIRINDI Dieudonné: "Like Patrick, I believe that we can work even more closely together in the future in the field of information security. This might include receiving real-time alerts on security risks and sharing experiences about cyber attacks, among other things. We are keen to keep abreast of what is happening in the field in Belgium, and by extension in Europe."
"In addition, it is genuinely beneficial to be able to share knowledge about the purely technical aspects of networks, such as new fibre technologies. I remember well how we implemented our first BGP peering exactly as we had worked out during a brainstorm with Pieter."
Pieter Hanssens, Networks Coordinator at Belnet: "The strength of our collaboration lies in the passion we share for the research and education community. At Belnet, we are always open to the exchange of knowledge. I'm thinking specifically about automation and monitoring (e.g. measuring performance, capacity and KPIs), themes in which we've invested heavily at Belnet in recent years." 
Did you find this news interesting?