Since 2016, Belnet has been connecting the Federal Scientific Institutions (FSIs) with the internet and each other using the ScienceMAN network. One of the best known member organisations is undoubtedly the Royal Meteorological Institute (RMI).
The RMI is best known by the general public for its weather forecasts. Less well known is the fact that this organisation also has an important mission when it comes to scientific research into weather and climate. The RMI shares its IT infrastructure and connectivity to Belnet with two other FSIs: the Royal Belgian Institute for Space Aeronomy (BIRA-IASB) and the Royal Observatory of Belgium (ROB), which is also home to the Planetarium.
Emmanuel Strobbe, IT Infrastructure Manager at the RMI: "Our researchers are permanently exchanging meteorology data with other federal scientific institutions, universities and other (inter)national partners. Managing ever larger data streams is one of our greatest challenges and, in the medium and even short term, this will require our users to adapt their working methods."
"Managing ever larger data streams is one of our greatest challenges"

Emmanuel Strobbe, IT Infrastructure Manager at the RMI
Growing need for storage
At present, researchers within the RMI work predominantly with data found on the local infrastructure. "We notice that we are gradually evolving to a situation where data can be consulted and processed remotely, and whereby only the research results are transferred to our own infrastructure. This requires not only a change in mentality, but also an adapted infrastructure. The network requirements will become more critical, as we require constant access to this data remotely, and on the other hand must also provide the required storage capacity ourselves," explains Emmanuel Strobbe.
Most of this storage capacity is currently dedicated to the results of climate model equations as part of research into climate change. "We expect that our data storage requirement will double in the coming 2 or 3 years, to reach a total combined capacity of 10 petabytes for the 3 institutions."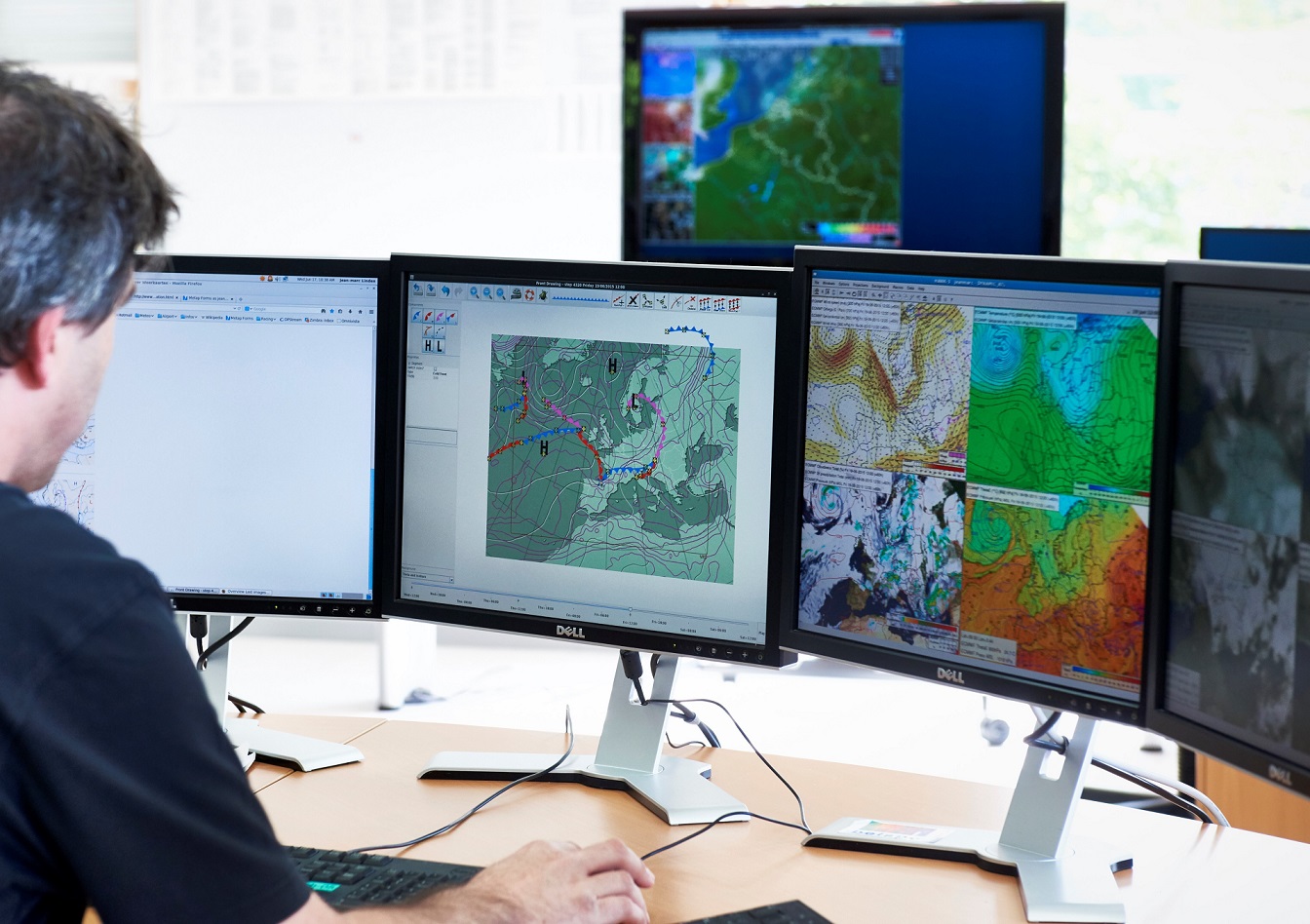 Sharing expertise with colleagues
Another challenge that had to be dealt with unexpectedly was the mandatory teleworking during the coronavirus crisis. "In the past, there was no strong culture of teleworking in our organisation," explains Emmanuel Strobbe. "Prior to the crisis, there were no more than 20 colleagues connected to our VPN at one time. Suddenly there were 80 to 90. Including many colleagues who had never worked remotely before, such as our weather forecasters. They have a critical function that must be guaranteed 24/7. One weather forecaster is always needed at the RMI, while the other colleague works from home. It was a real challenge to ensure that they could do their job remotely with just as much reliability."
The exchange of knowledge and experience between the IT team at the RMI and colleagues in the Royal Belgian Institute for Space Aeronomy and the Royal Observatory of Belgium is considered a real bonus by Emmanuel Strobbe. "Besides the collaboration on a technical level, we also share our expertise, which creates all kinds of benefits. Although our operational requirements are very diverse. The RMI generates lots of visibility among the general public due to its public mission, including on our website and our smartphone application, which has become much more popular. Interruptions are therefore quickly noticed by a large number of end users," he explains.
Safe and high-performance network
A powerful network is therefore a 'must'. "We are really delighted with Belnet as our connectivity partner. The performance and availability of the ScienceMAN network are excellent. The recent update of ScienceMAN also generated all kinds of new benefits. We now have faster connectivity and, thanks to the installation of 40G routers, we have plenty of margin for the future."
Using the Service Desk, the RMI can contact Belnet 24/7 if there are any questions. "Such contact generally runs very smoothly. The only thing to be improved is the communication during incidents specifically affecting one of our three institutes. Although we notice that Belnet pays great attention to keeping customer details up to date, we have already seen that certain message were not received by the correct recipients. In the event of disruptions affecting the entire network, the information does flow properly."
Patching vulnerabilities
When it comes to security, the RMI considers Belnet as a partner. "As a small organisation, we lack the resources to protect ourselves from major cyber threats. We rely on Belnet's expertise to help us. For some time now, we have been receiving notifications via Belnet about vulnerabilities. We find this 'Threat Intelligence' service very valuable: it is comforting to know that we can receive these alerts in case we have not yet discovered and patched these vulnerabilities ourselves."
"The recent update of the ScienceMAN network gives us all kinds of benefits"
FileSender
And as for the future, we expect even more collaboration with Belnet. "We recently launched a request to be part of the Belnet R&E Federation, allowing our end users to use FileSender. Furthermore, our team is now considering how Belnet could help us with multicasting so that in the future we could receive satellite images from EUMETSAT via the internet."
Did you find this news interesting?