Nicolas Loriau

,

Technical Advisor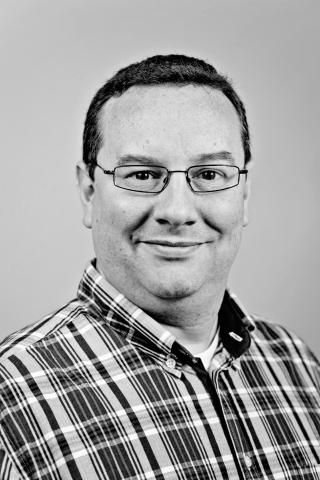 "I think the daily contacts with customers are very interesting. I also like the variety of my job."
Tell us about your job…
"My role is very varied. As a Technical Advisor I provide support to Belnet's customers on the one hand. They can contact me with technical questions or issues. I also explain which services we offer and what they can do with these services.
In addition to this I also act as the link between our customers and the technical units within Belnet. In a sense I "translate" our customers' questions into a more technical explanation for the Belnet teams."
What was your career path before joining Belnet?
"I hold a degree in electrical engineering, and majored in IT networks.  My first job was with an HVAC company. I ended up in telecoms thanks to one of their customers.
I was specifically searching for a Belgian, preferably non-commercial organisation that could offer me a socially relevant job.  And that's how I ended up applying to Belnet in 2012."
Working for Belnet.... Is it an advantage, in your opinion?
"Most certainly! My goal was to ultimately work for Belnet, because it supplies connectivity and services for research and education. I want my daily work to not merely benefit the organisation I work for, but also higher education and research in Belgium. So the non-commercial aspect really appealed to me.
Besides this I also consider the fact that you can work in a high-tech environment at Belnet as well as using the newest technology a huge asset."
What do you value most about your job?
"I think the daily contacts with customers are very interesting. We work for a lot of different organisations, including universities with very large technical teams and smaller organisations where you can really play your role as advisor to the fullest."
What do you think about the collaboration with your colleagues?
"My colleagues and I work well together. I think it's a good thing that all the noses point in the same direction. Because we are a governmental organisation, the atmosphere is very friendly. I didn't think this was really the case in the private sector. The contacts with my colleagues are much warmer and there is no rivalry. Everyone is working towards achieving the same goal."
How well are you able to combine work and your private life?
"Pretty well, actually. Thanks to the flexible working hours and the telecommuting options, I can easily combine my job and my family life."
Can you tell us of which project you are particularly proud?
"I'm proud of the govroam implementation in the federal satellite offices. Thanks to govroam, employees in the satellite offices can easily and securely use the local Wi-Fi networks. It's a great project and really good collaboration with other public services.
Together with the technical teams, we've implemented a network for supercomputing (CECI) between all French-speaking universities in Belgium, similar to the network we put in place for its Flemish equivalent (VSC).  This project has really boosted our reputation in the educational sector."