Further roll-out of the FedWAN project is in the pipeline
Brussels, 23 April 2018 – Belnet, the national network for research and education, will celebrate its 25th anniversary this year. Over the past 25 years, Belnet has developed into a public service under separate management with 75 employees, a network capacity of 100 Gbit/s and multiples and more than 200 connected organisations – altogether serving more than 800,000 end users. Jan Torreele, director of Belnet, is more than ready for the future with a continuous service for research centres, higher education colleges and universities, and the further roll-out of govroam and FedWAN.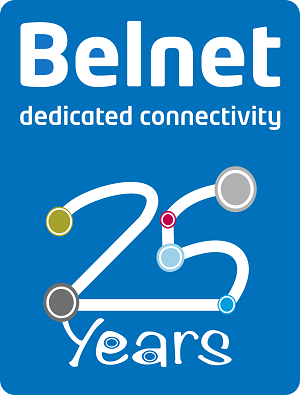 Expansion of govroam
Belnet developed and introduced govroam (government roaming) five years ago. Today sixteen public services and governmental administrations are connected to the Belnet network and make use of this roaming service. Jan Torreele: "Users get simple and secure access to their own institution's wireless network and to those of other participating institutions, resulting in increased mobility and more efficient registration. Our objective is to further increase the number of connected organisations and to make govroam 'the' Wi-Fi solution for public authorities."
Further development of WANFIN with FedWAN
Belnet completed the WANFIN project successfully at the end of 2017. The aim of this project was to connect the 193 offices of the Federal Public Service Finance (FPS Finance) with the headquarters in Brussels. This was done by means of the takeover, development and operation of the Wide Network Area (WAN). In total, Belnet supplied 273 new network connections and approximately 22,000 migrated users in 2.5 years. Thanks to WANFIN, FPS Finance was able to achieve not only major cost savings, but the existing bandwidth between the different institutions was increased by factor 10.
Belnet also wants to set up similar WAN projects in the near future with other large federal government services; it aims to do this by connecting various sites to the closest Point of Presence (PoP) of the Belnet network. It is a big advantage that Belnet has a national network for government services, as they can be connected locally to the Belnet backbone. Jan Torreele: "With FedWAN Belnet is creating important synergies, for example by sharing infrastructure between different customers. And thanks to economies of scale, government services have higher bandwidths for a lower price."
Trusted partner 
Belnet also uses the knowledge it has built up from its services to public authorities for its core activities: the supply of internet services to education and research institutions. Jan Torreele: "This results in cross-fertilisation between the two communities. Based on our experience in service level management for public authorities, we can provide professional reporting to the connected R&E institutions, for example."
Customer satisfaction surveys carried out by Belnet on an annual basis show that the connected organisations do not regard Belnet purely as a supplier, but as a real partner that works together with them.
Jan Torreele: "In the future too we want to remain a trusted partner for all our customers. It is our mission to fulfil their specific requirements in the best possible way. We work continuously to further improve the quality of our service, as our customers depend on a permanently available connectivity. Operational excellence and the further professionalisation of our organisation will therefore be our main aims over the next five years."
Remarkable pioneering role
In September 1993 Belnet became Belgium's first internet provider, and since then it has never relinquished this pioneering role. "At the time it was still early days for the internet and nobody could predict its impact", says Jan Torreele. "For example, in 1997 Belnet experimented with IPv6, while it was only rolled out globally 15 years later. But our academics were able to obtain experience with it during these years. Belnet is committed to investing in the future. We supply our services to research institutions and universities, a niche market with very specific requirements."